TS6 Pro-Bio Cleanser
A face wash is suitable for oily/ combination skin.
Especially added Yogurt Filtrate essence which can regulate your skin to a healthy pH-balanced environment.
Trehalose makes natural moisturizing, no over-washed feeling.
Ingredients:
Yogurt Filtrate (TS7®);
Trehalose
Package: Tube, 100 ml/tube
Formulation: Cream
TS6 facial wash contains TS7®, a probiotic that works as our natural acid mantle protection, helping reach a healthy pH level situation
If you are someone...
Living with stressful work, an unbalanced diet, or frequently stay up late.
Dry skin, dehydration, itchiness, small wrinkles happening result from lacking skincare.
Frequently sunburn, suntan and, hurt skin result from lacking sun protection.
has combination skin/ oily skin.
Effects:
Stays a pH-balanced skin, no more unstable states happening.
Refreshes skin and lights the face tone.
Reduced oiliness and maintain softness.
Oil-free
Use:
Facial cleansing and makeup remover.
Direction for Use:
Apply a small amount onto clean fingertips and gently massage into damp facial areas in upward circular motions, avoiding the immediate eye area.
Active ingredient:
Yogurt Filtrate (TS7

®

), the active ingredient is activating dermis fibroblast cells to generate collagen and also contains natural anti-microbial materials to defense against various external pollution.
7 Non-GMO probiotic strains
Fermentation with fresh milk media
Skin proliferation factors
Moisturizing elements
Antiseptic agent

The Yogurt Filtrate is the next-generational biotech skincare material successfully developed through a series of trials and screening of dozens of micro-organisms.
Characteristics:
The natural material of the complex symbiotic fermentation technique:
The rich nutrients: Yogurt Filtrate is rich in amino acids, vitamins, folic acids, biotin, and lactic acid; the natural antibacterial substances may suppress certain bacterium such as Staphylococcus aureus that induces dystopia dermatitis.
Special function: Yogurt Filtrate is good for your skin because it improves the synthesis of CollagenⅠ, Ⅲ, Fibronection, and Cornifin.
Characteristics of Ultra-Fine Particles: It can improve the moisture of inner skin and moist epidermis and increase the oxygen absorption of skin efficiently.
Trehalose is a polysaccharide derivative that extracts from seaweed. It is similar to the water in the structure of the human body which can help our skin easily absorb the water supply long-lasting moisture.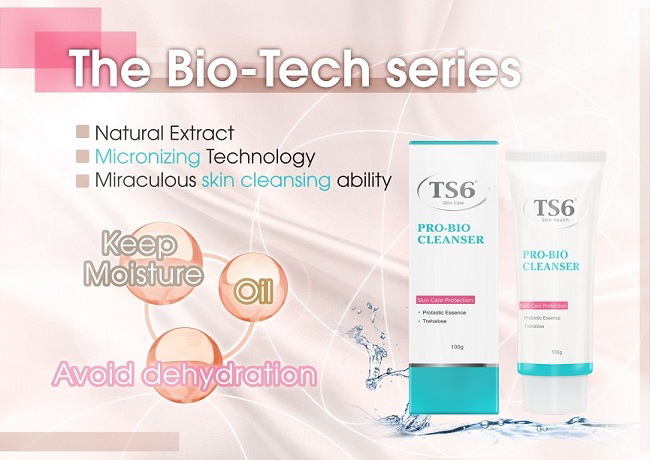 Distributor seeking
If you want to buy a TS6 facial wash,
Or interested in cooperating as a distributor,
Please contact us.