TS6® Feminine Moisturizing and Brightening Jelly, a mask is right for intimate care.
- Let's take care of intimate areas as you do to your face!
A unique skin whitening mask targeting intimate areas.

Specially designed for the droughty and fragile intimate skin that needs special care for tackling skin darkness.

Intensive applications weekly bring you back tender and moisturized skin.

Soothe itchiness and discomfort. The special wet application method makes moisturization effective and fast.

Contains TS-2L essence, controlling pathogen growth whereas nurturing vaginal probiotics, eventually reach a stable and healthy pH-balanced condition.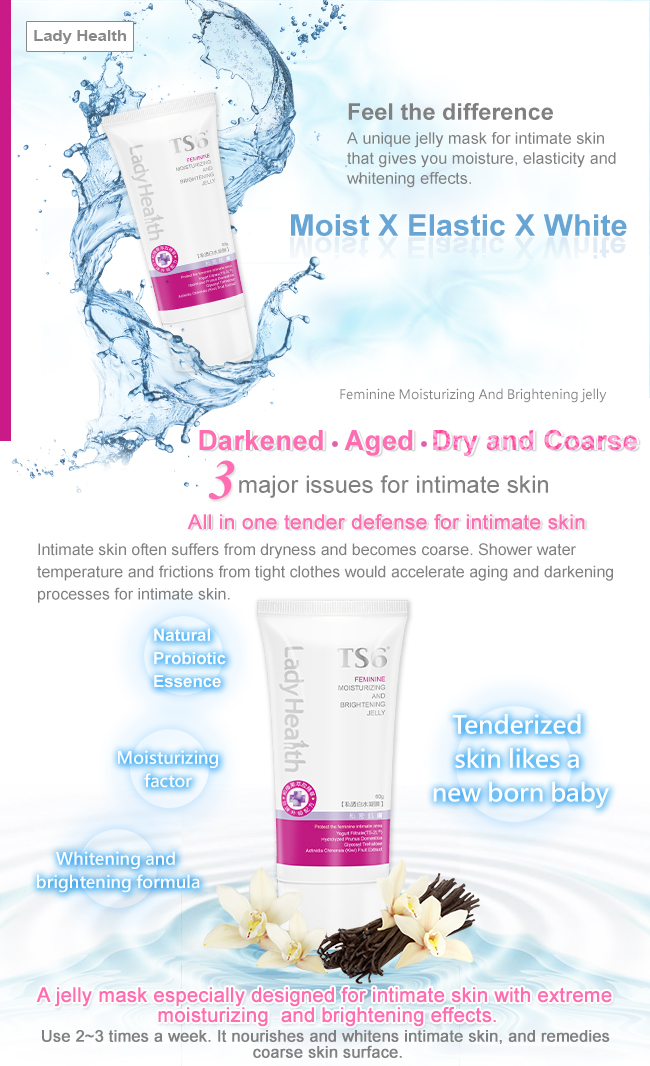 Key ingredients of TS6® Feminine Moisturizing and Brightening Jelly
Active Ingredients
TS-2L® Probiotic Essence, Hydrolyzed Prunus Domestica Extracts, Hydrogenated Starch Hydrolysates, Glycosyl Trehalose, Kiwi Extracts, Arginine.

Use
Cleanse and whiten intimate skin from the inside out.

Direction for use
After cleansing, apply jelly of adequate thickness on intimate skin for about 15~20 minutes (may pad with a panty liner to prevent contacts with clothes.) Wipe it clean with tissues or TS6® Probiotic Wipes.
How to use it combining with other feminine care products to DOUBLE the effect?
TS6 is a Taiwan manufacturer that has 20 years of experience in making probiotic-related biotech;
We have been contributing to our quality in every feminine hygiene product.
TS6 is your most intimate's bodyguard, assisting you to have feminine care without effort.

Distributors cooperation seeking
Package
60 g/tube

Formulation
Jelly mask