TS6® Feminine Soothing Gel is a great assistant, alleviating irritant reactions quickly
Relieves intimate skin problems, such as skin swollenness, redness, discomfort
Long-lasting moisturizing. Help intimate skin kept in healthy status
Portable Package, take with you whenever you need it
Fast soothes intimate skin or other external causes of itchiness or stinging feelings
Several natural herbs were added. No irritation
Exclusive patented TS-2L essence added, maintaining feminine care while soothing skin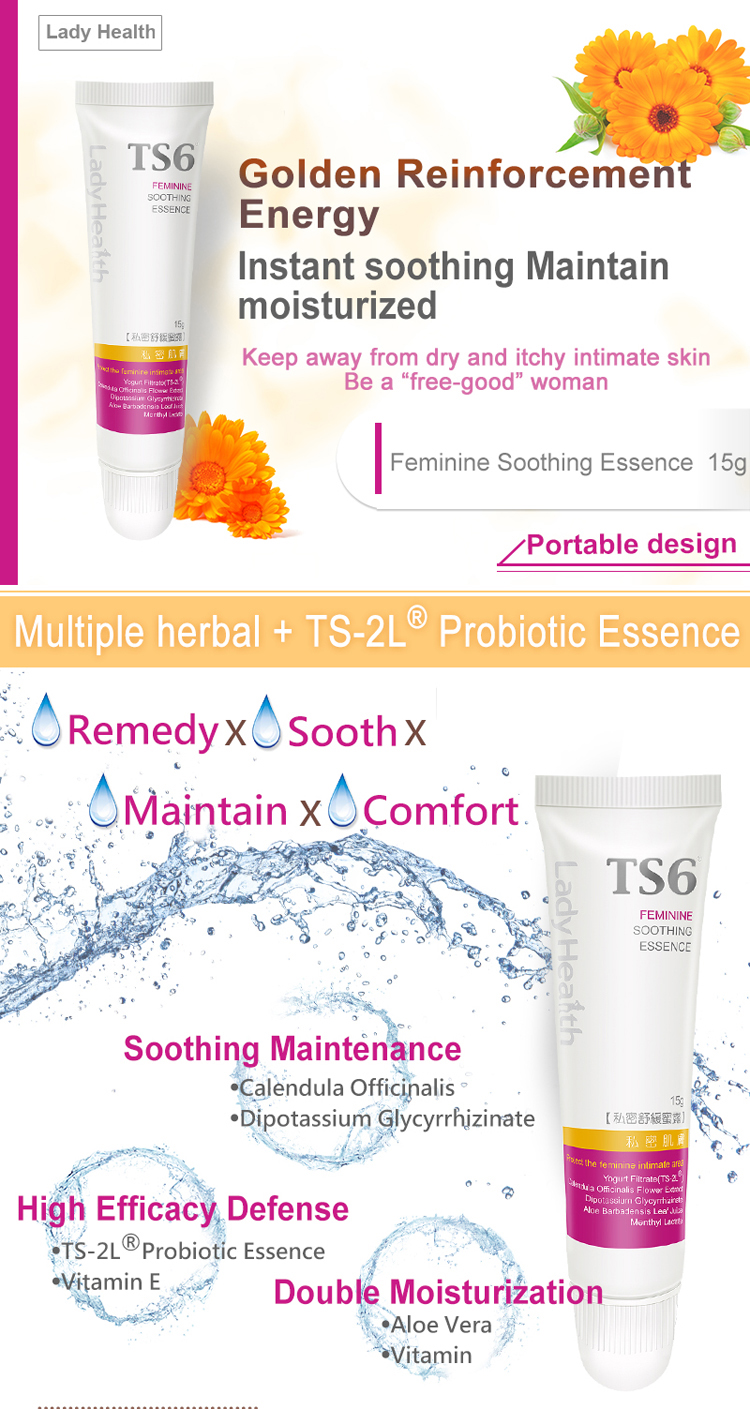 TS6 soothing gel's 6 key ingredients

Active Ingredients
TS-2L® Probiotic Essence: Natural probiotic essence is rich in nutrients to form and natural defense system.

Calendula officinalis flowers Extracts: Full of herbal and vitamins, it remedies intimate skin and keeps skin in natural skin state, and soothes discomforts, and solves the aging problem.

Aloe Vera Extracts: Contains several vitamins, amino acids, and micronutrients, it gives intimate skin full of moisturization.

Vitamin E: Full of nourishments, they keep intimate skin is fully formed defense system full of moisturizing.

Dipotassium glycyrrhizinate: Reinforces the absorbed rate of nutrients, and so enhances skin defense ability.

Menthyl lactate, Arginine: Gives intimate skin a mild chilling feeling.

Use
Fast relief of intimate skin discomfort.

Direction for use
Suitable for discomfort from intimate skin frictions, dryness, and itchiness, aftershaves, and during or after menopause.
When can use TS6® Feminine Soothing Gel?
TS6 has been a Taiwan manufacturer of feminine hygiene products for over 20 years
We have put exclusive patented TS-2L probiotics essence in all products, which is wholesome for feminine care

Feminine care is a big topic where every woman should be focusing on
Let TS6 be your side, helping you every situation that might come across your life
Distributors cooperation seeking
If you are interested in TS6 feminine hygiene products,
or want to cooperate as a distributor,
Please contact us
Package
15 g/tube

Formulation
Gel