TS6® Feminine Whitening Cream
One bottle solves 9 intimidating skin problems, such as brightening, moisturizing, and tightening skin, delaying skin aging, and erasing wrinkles
Mainly for intimate skin moisturizing, whitening, and caretaking; also suitable for whole-body skin
Elegant fragrance naturally induces feminine scents
Natural herbs added for those who do care about not using artificial ingredients
Contains exclusive patented TS-2L essence, maintaining healthy feminine care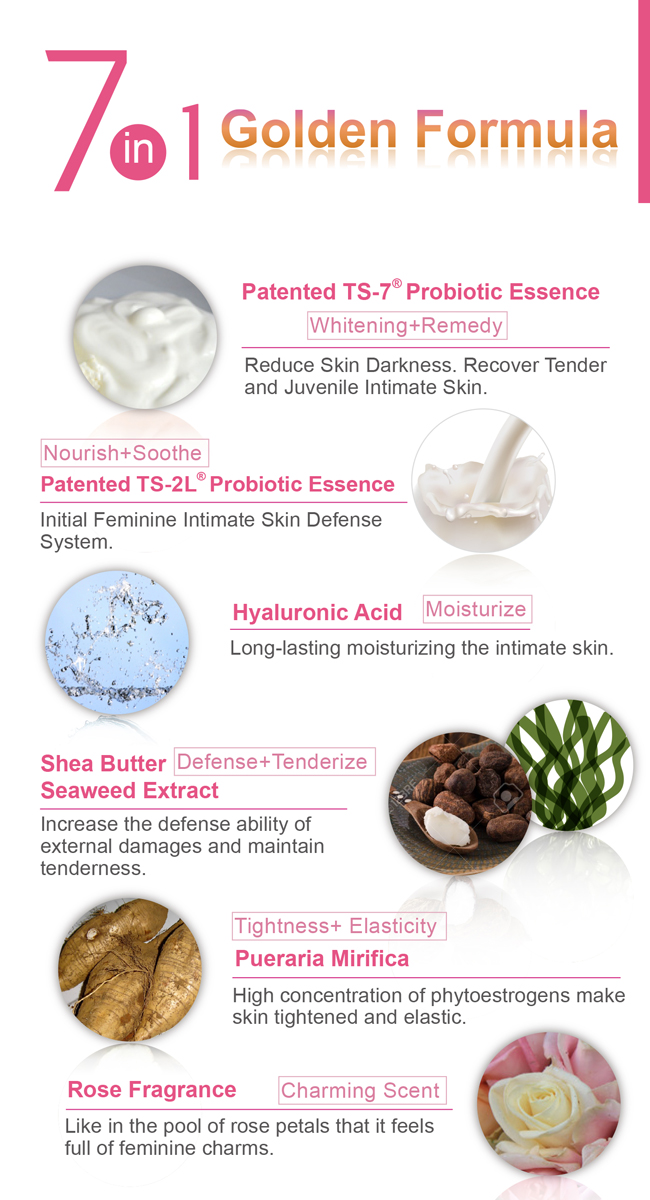 Except for basic cleansing, in order to show feminine charm, it is necessary to especially remedy and maintain tender and elastic intimate skin.
TS6 Feminine whitening cream is specially designed for women, giving intimate area brightness, and juvenile, elastic status.
It is also suitable for the whole body that gives skin elasticity, tightness, and moisturizing.

Key ingredients of TS6® Feminine Whitening Cream
Active Ingredients
TS-2L® Probiotic Essence, Calendula officinalis Extracts, Aloe Vera Extracts, Dipotassium glycyrrhizinate, Vitamin E, Menthyl lactate, Arginine.

Use
Fast relief of intimate skin discomfort.

Direction for use
Suitable for discomfort from intimate skin frictions, dryness and itchiness, aftershaves, and during or after menopause.
Distributors seeking
If you want to buy TS6 feminine whitening cream,
Or interested in cooperating as a distributor,
Package
120 g/tube

Formulation
cream