TS6® Pro-Hygiene Wash, a feminine wash that is perfect for intimate and body wash
Suitable for the sensitive skin type, keeping skin moisture and feel comfortable.

Contain Tea Tree Oil and Aloe Vera: improve skin elasticity, natural moisturization, and anti-bacterial effects.

Especially focus on intimate area cleansing and better protection as shower gel.

TS-2L® & TS7®:Probiotic metabolite, including lactic acid, anti-bacterial factor, and multiple nutrients to promote healthy skin and urogenital wellbeing.
​​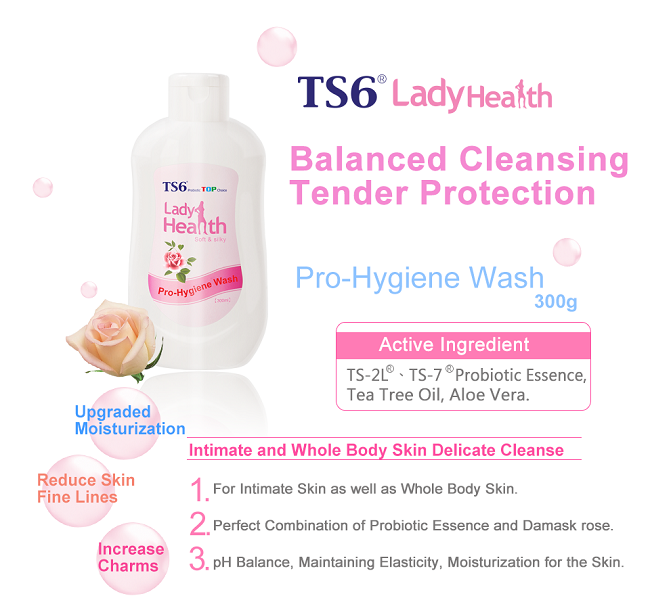 Details about TS6 feminine wash
Ingredients
Yogurt Filtrate TS-2L®: It is rich in natural lactic acid, anti-microbial factors, amino acids, vitamin B complex, and natural moisturizers, keeping intimate skin in a natural healthy weak acidic environment.

Probiotic essence TS7®:
Isolated from the metabolites of seven probiotics, which are rich in L-lactic acid, biotin, amino acids, fatty acid, folic acid, and B-complex vitamins.

Enhancing skin cell regeneration, skin moisturization, and anti-pathogen from bacteriocin and weak acid skin condition.
TeaTree Oil: Regulate skin oil balance, and cleanse skin with a mild anti-bacterial effect.
Aloe Vera: Helps moisturizing and softens the skin.
Use
Body and intimate area cleansing.

Direction for use
Apply an adequate amount of gel on the wet body parts, clean, and rinse thoroughly.
TS6 is a manufacturer of producing feminine hygiene products,
We have over 20 years of experience, only added what benefits in products for women.

TS6 is a women's bodyguard, protecting your feminine health.



Distributors cooperation
If you want to know how to cooperate with us as a distributor,
please press the button below
Package
100 g/bottle

Formulation
Gel