TS6 Feminine Intensive Whitening Gel
A vaginal whitening gel contains high-concentrated whitening essence doubling the brightening effect.
Light texture. No sticky feeling.
Exclusive patented TS-2L essence helps women's intimate area get a healthy pH balance.
Ingredients:
Yogurt Filtrate (TS-2L®), Tranexamic Acid, Litchi Chinensis Seed Extract, Bisabolol, Magnesium Ascorbyl Phosphate, SodiumHyaluronate.
Direction for Use:
Apply an adequate amount on an intimate area, lightly massage until fully absorbed.
Package: 45 g/bottle
TS6 Feminine Intensive Whitening Gel,
A vaginal whitening gel can solve your darkness problems
Includes high-concentrated 3% Tranexamic acid, a whitening ingredient that brightens your dark areas.
Gel texture helps absorb fast.
Consists of exclusive patented

TS-2L essence

helps feminine care reach a healthy state.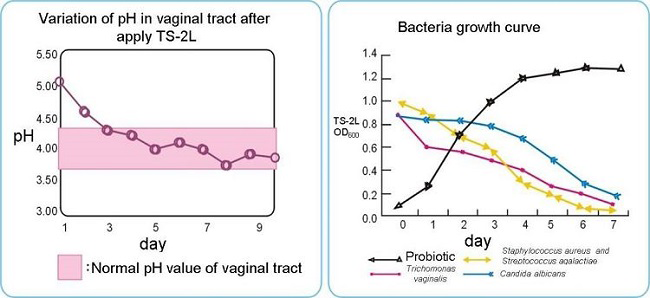 Female intimate areas are often prone to odor, infections, abnormal secretions, etc.,
so feminine care has become a topic of concern to women now,
especially the natural application of probiotics for the latest trends in derivatives.
TS6 feminine whitening gel is a unique designed for females.
It is gently applied to the private place, just like a moisturizing whitening mask which makes the pink and elastic.
This product uses probiotics to extract the essence. It can prevent genital discomfort and bacterial infections.
With natural whitening essence to reduce the damage of melanin and restore youthfulness and strong moisturizing essence
can increase skin nutrition and smooth skin softy and elasticity.
Ingredients
Yogurt Filtrate (TS-2L
®
), Tranexamic Acid, Litchi Chinensis Seed Extract, Bisabolol, Magnesium Ascorbyl Phosphate, SodiumHyaluronate
Direction for Use
Apply adequate amount on intimate area, lightly massage until fully absorbed.
Package
45 g/bottle
TS6 is a Taiwan manufacturer of feminine hygiene products
All products include TS6 patented TS-2L probiotic essence, which helps feminine care
TS6 is like women's most intimate bodyguard, protecting your feminine hygiene
Distributors seeking
If you are interested in our products
Please contact us