TS6 Feminine Whitening and Cleansing Mousse
A whitening feminine wash for cleansing intimate skin.
Obvious Whitening effect thanks to SEVEN magical whitening herbal ingredients added.
Consists of TS6 patented TS-2L essence to better your feminine care.
Package: 180 g/bottle
Formulation: mousse
TS6® Feminine Whitening and Cleansing Mousse, a perfect whitening feminine wash you will regret to miss it
TS6 is a women's bodyguard where protecting feminine care
Cleanse and purify intimate skin. Reduce darkness accumulation.
Dense fluffy mousse bubbles with Palmarosa Essential Oil scent.
SEVEN whitening essences from the extracts of Alps plants that effectively whiten intimate skin.
Naturally and softly moisturizing your intimate areas due to Aloe Vera and Tea Tree Oil extracts added.
Added patented

TS-2L essence

, protecting feminine pH balance and feminine health.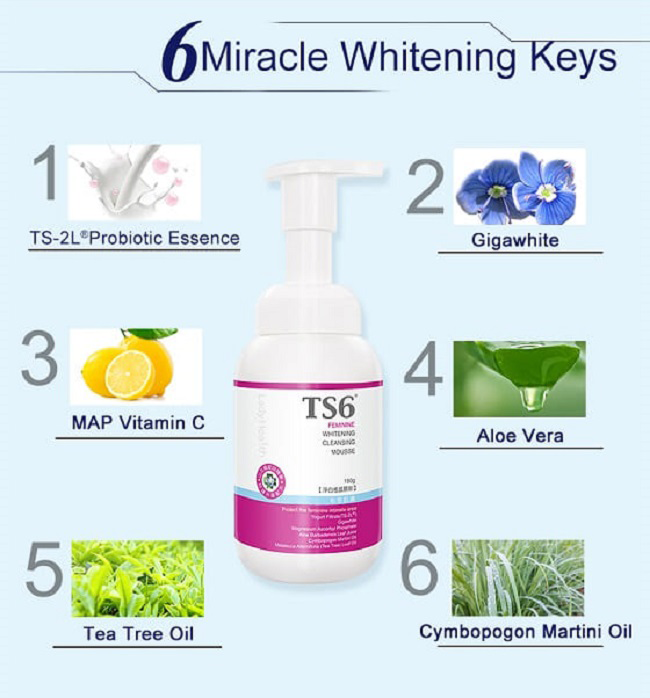 What SIX phenomenal whitening ingredients did TS6 add in a perfect whitening feminine wash?
TS-2L

®

Probiotic Essence: Double patented ingredient which contains natural lactic acids, anti-microbial factors, amino acids, vitamin B complex, and natural moisturizers.
Gigawhite: The essence of seven herbs from the Alps, Gigawhite, breaks the usual rule of cleansing and whitening in the intimate area. Deep whitening from inside out.
MAP Vitamin C: Magnesium Ascorbyl Phosphate(MAP) is well known as a whitening factor.
Aloe Vera: It can soothe and protect intimate areas.
Tea Tree Oil: Natural anti-bacterial factor.
Cymbopogon Martini Oil: Efficient moisturizer and skin soother.
Brief introduction of TS6 whitening feminine wash
Active Ingredients:
TS-2L
®
Probiotic Essence, Magnesium Ascorbyl Phosphate, Gigawhite, Cymbopogon martinii Extracts, Aloe Vera Extracts, Tea Tree Oil Extracts.
Use:
Cleanse and purify intimate skin. Reduce melanin accumulation.
Direction for use:
Apply an adequate amount of mousse on the palm or the intimate area, lather directly with no need of adding water, and then rinse.
TS6 is a Taiwan manufacturer that has been specializing in probiotic-related biotech for over 20 years; We have been contributing to our quality in every Feminine hygiene product.
TS6 is your most intimate's bodyguard, making you maintain feminine care effortlessly.

Distributor seeking